Project CAINE started, (in the 2008), as the graduation thesis of Giancarlo Giustini at the Information Engineering Department of the University of Modena e Reggio Emilia.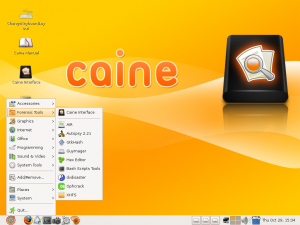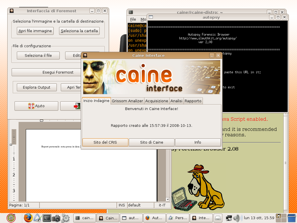 After achieving the graduation degree, prof. Michele Colajanni decided to extend the object and the purposes of the project, and inserted CAINE inside the main activities of CRIS, the Inter-department Research Center on Security that gathers expertise in multiple security-related fields such as: information and communication technologies, high-tech crimes, biochemical sciences, economic, financial and juridical expertise.
Giancarlo Giustini is supported by high-expertize IT and juridical professionals, as ing. Mauro Andreolini, researcher at the Information Engineering Department, and avv. Vittorio Colomba, associate professor at the Department of Juridical Sciences, both at the University of Modena and Reggio Emilia. It also started a collaboration with the local Telecom Police Department in Bologna (the italian Polizia Postale).
The project has been selected and accepted in the 1st Workshop on Open Source Software for Computer and Network Forensics (OSSCoNF), held in conjunction with OSS2008, the Fourth International Conference on Open Source Systems, during the IFIP WCC2008 World Computing Congress. The workshop has taken place in Milan, Italy, the 10 of September 2008.


Since the end of the 2009 and currently the Caine project is mainteined by Nanni Bassetti with the collaboration of the Caine team.


Here is a Wiki about Caine

CAINE & Digital Forensics
▪ Manual and Policies: https://www.caine-live.net/page8/page8.html

CAINE (Computer Aided INvestigative Environment) is a GNU/Linux live distribution created as a project of Digital Forensics for Interdepartment Center for Research on Security (CRIS), supported by the University of Modena and Reggio Emilia.
Currently it is no more supported by the University of Modena, it is an indipendent project leaded by its project manager Nanni Bassetti.