30/Oct/2016 08:30 Filed in:
News
CAINE 8.0 BLAZAR released 30/10/2016
CHANGELOG CAINE 8.0 "BLAZAR"
ADDED/CHANGED:

IMG_MAP (image dd/raw and ewf mounter)
XAll 1.5
RecuperaBit
SQLParse
PEFrame
Yara
PDF analysis
MemDump
ADB and LibMobileDevice
Gigolo (network filesystem client)
Shrew (VPN manager)
wxHexEditor
Jeex
XRCed
PffLib
imount, vhdimount and vhdiinfo
samba
vblade
iscsitarget
hashdb
Tilda
trim disabled
many and many scripts and programs....

Windows Side: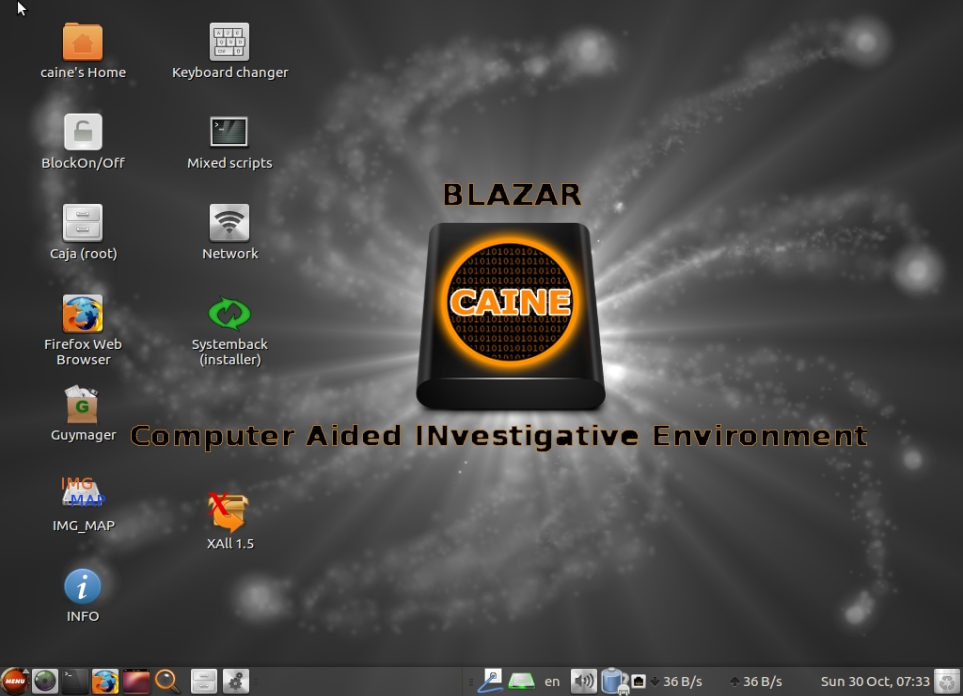 Win-UFO with for Incident Response/Live Analysis on Windows systems.
Win-UFO 6.0 but the tools are renewed and some tools have been removed; There are extra tools.
------------------------------------------------

CAINE DeepSpace 7.0 released 05/11/2015
CHANGELOG CAINE 7.0 "DeepSpace"
ADDED/CHANGED in CAINE 7.0:
The important news is CAINE 7.0 blocks all the block devices (e.g. /dev/sda), in Read-Only mode. You can use a tool with a GUI named BlockON/OFF present on Caine's Desktop.
This new write-blocking method assures all disks are really preserved from accidentally writing operations, because they are locked in Read-Only mode.
If you need to write a disk, you can unlock it with BlockOn/Off or using "Mounter" changing the policy in writable mode.

fixed FMOUNT
XAll
BTCScan (Bitcoin scanner)
dmraid
okteta
x11vnc server
gvncviewer
ssh
openssh
wput
unBlock (block in RO/RW block devices)
mount-nfs
scalpel 2.1
new peframe
damm
find_times
parse_VSS_RFC
4n6 scripts updated
quickhash updated
bleachbit
usnj
vshot
zulucrypt
ddrescue-gui
ddrescueView
dd utility
iloot
python_regparse
libmobiledevice
ifuse
ddrescueview
INDEXparse.py, Shellbags.py, evtxexport.py, extxinfo.py
NFS client.
17/Jan/2014 08:30 Filed in:
News